Arm Band Badge Holders guarantee trouble-free wear with instant visibility and long-lasting durability. Arm band badge holders are required in many active work situations. Arm band badge holders are ideally suited to prominently display ID badges while maintaining a safe working environment. Using a clear vinyl arm band badge holder is the perfect solution for assembly lines, warehouses, outdoor occupations, recreational facilities, airports and many other specialized work environments. The arm band holder design keeps your ID credential from interfering with your work.


ARM BANDS

Arm Bands - solid color 17" (432mm) adjustable elastic, adjustment range: 6 " - 10 ", stretches to 17". The arm band can be adjusted with one hand, without the need to remove it from your arm.

Available in 6 colors. Day-glo colors are also available - call for details.


1840-7201 Black

1840-7202 Royal Blue


1840-7203 Navy Blue

1840-7204 Green

1840-7206 Red

1840-7208 White

---
ARM BAND BADGE HOLDERS

All holders come priced with holder and armband as a complete unit!
CREDIT CARD/DATA SIZE ARM BAND BADGE HOLDERS


Max. card insert size: 2 21/64 x 3 3/8" (59 x 86mm)
1840-7000


Clear Vinyl Arm Band Badge Holders - horiz/top load, heavy-duty vinyl construction, 30 mil front, 30 mil back

Minimum order: 100 units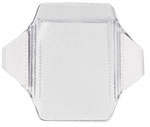 1840-7010
Clear Vinyl Arm Band Badge Holders - vert/top load, heavy-duty vinyl construction, 30 mil front, 30 mil back
Minimum order: 100 units

---
GOVERNMENT/MILITARY SIZE ARM BAND BADGE HOLDERS
Max. card insert size: 2 5/8 x 3 7/8" (66.5 x 98.5mm)
1840-7100
Clear Vinyl Arm Band Badge Holders - horiz/top load, heavy-duty vinyl construction, 30 mil front, 30 mil back
Minimum order: 100 units

1840-7110
Clear Vinyl Arm Band Badge Holders - vert/top load, heavy-duty vinyl construction, 30 mil front, 30 mil back
Minimum order: 100 units